monday, july 30, 2012
*** BEFORE & AFTER IMAGES - WOMEN OVER 40 MAKEUP ***
LISA JOHNSON MAKEUP ARTIST
One of my makeup specialties are WOMEN OVER 40 makeovers - and easily the most dramatic of any age group. I LOVE my Over 40 clientele - it is so rewarding to watch their eyes when they take a peek at themselves after a session with me. Not surprisingly a lot of my bride's mothers are that demographic :) so I thought I would post a few of my lovely and brave clients' for you. These are unedited iPhone images - non airbrushed (traditional hand applied makeup) - something I can teach you to do with a few products.
NEED LESSONS & A MAKEOVER? If you know of or perhaps ARE that Woman Over 40 - and need a new look, a makeup bag go thru (non-judgemental!) a makeover, foundation match and in need of makeup services for any event - contact me today and book a session - or purchase a gift certificate for someone deserving! I bring my bag of goodies to you - and in the privacy of your home or office - in a little under 2 hours you will look and feel empowered with new skills and look gorgeous as well. We will go thru 2 looks, address any concerns you have, colors and product recommendations, and more. Each session is personalized to your specific needs. Contact me today~! Starting at 150.00
♥♥♥
BEFORE & AFTER - WOMEN OVER 40 MAKEUP - UNEDITED iPHONE IMAGES
CONCERN: Dark circles and uneven skin tone addressed and covered - bring back the youthful glow and cover dark circles instantly.
CONCERN: Bring back youthful glow and definition of features - base foundation matched and color correction of brows and color matching.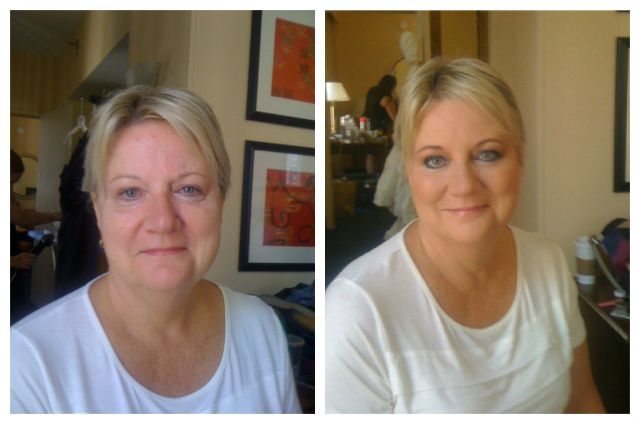 CONCERN: Base match foundation, bring more semetry to face, hide neck, bring a more youthful appearance and uplift the facial expressions.
CONCERN: Bring more youthful color and glow to the face, hide dark undereye circles, post facelift makeover lesson.
Contact me today for your new look & lessons - Before & After Makeovers in Nashville Tennessee - lessons, tips from a pro, one on one service - Lisa Johnson Makeup
Women Over 40 Makeup, Women Over 40 Lessons in Tennessee, Before & After Makeup Nashville, Before & After Women Over 40 Makeup, Nashville Women Over 40 Makeovers, DIvorce Makeover, post facelift makeover
---
Comments:
07/31/2012 - Micah W.
These are AMAZING AFTERS, Lisa! I for sure need to contact you. I just turned 46 and have been uninspired for years looking in the mirror. I need your help!
---
Post a comment