friday, december 23, 2011
*** New Offerings for 2012 - Flawless Complexion Gel ***
NEW PRODUCT OFFERINGS for 2012
This antioxidant-enriched formulation evens out skin tone and reduces the appearance of pores, fine lines, and wrinkles for flawless looking skin. This water-resistant gel also works to lock in moisture and prevent shine. Flawless Complexion Gel glides on smooth and can be worn alone or under any powder or foundation
.
You'll love this gel!
$20.00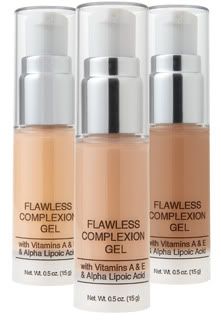 Yellow Fix for sallow complexions
Red Fix for red complexions

Medium for most all beige skin tones.

Nashville Makeup Artist - Lisa Johnson - Flawless Complexion Gel - New Product Offerings for 2012
---
Comments:
01/11/2012 - Marion
Lisa, I wanted to let you know that I really do love this gel. Thank you for showing me how to use the makeup I do have and showing me the products you picked for me. The makeup lesson really made a huge difference in my personal look and self esteem. You are a God send!
---
Post a comment